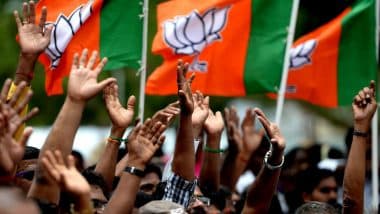 BJP (Photo Credits Twitter)
Lucknow: Uttar Pradesh BJP (BJP) president Bhupendra Singh Chowdhary told that the state executive committee of the party will be held on January 22 at the Indira Gandhi Foundation in Lucknow. In this, 700 office bearers will participate in the meeting. BJP state president Bhupendra Chowdhary while talking to reporters on Saturday said that the meeting of BJP's state working committee will be held tomorrow at Indira Gandhi Pratishthan in Lucknow. Seven hundred people will be present in this meeting. In the meeting, Chief Minister Yogi Adityanath will address the inaugural session of the working committee.
State President Bhupendra Chowdhary said that Panna Pramukh and moving beyond that, Panna Committee was formed, on the basis of whose work great success was achieved in Gujarat. The BJP has been successful in reaching out to all sections of the society. The details of the work done so far will be kept and further strategy will be decided. Intranasal Covid Vaccine: India's first intranasal Covid vaccine will be launched on January 26, Lumpy virus vaccine also ready
He said that in the meeting of the National Executive, it was decided to extend the upcoming plan of the party, assembly elections and JP Nadda's tenure till June 2024.
Chaudhary said that the party is preparing a strategy for the upcoming programs through the guidance of the Prime Minister and the schemes being run by the government. In the State Working Committee meeting, work will be done on such resolutions along with further proposals and policies of the party workers.
He said that the party is confident of victory in the upcoming assembly elections in nine states and in the Lok Sabha elections. The Panna committee was formed in the Gujarat elections and it was successful. In the executive meeting, Prime Minister Narendra Modi said that the time of freedom should be converted into the time of duty.
He said that BJP has to work in the form of a mission. Youth of 18 to 25 years have to be added. They have to be made aware of political history. A campaign will be launched to create awareness and democratic values ​​among them. The BJP president said that no one is different from us, if any person or organization wants to join us according to our ideology then it is welcome. The decision of the alliance is taken by the top leadership.
uttar pradesh state working committee of bjp on january 22 700 office bearers will participate