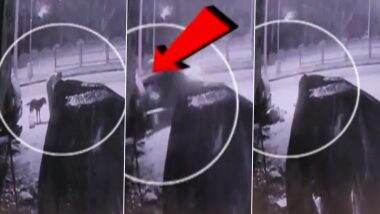 The news of a road accident has come to light from Chandigarh. Here a girl who was feeding street dogs on the roadside was run over by a speeding Thar vehicle. After the accident, the vehicle sped away from there. This incident of road accident was captured in the CCTV camera installed nearby. According to information, the injured girl was identified as 25-year-old Tejaswita Kaushal. Cold Attack: Cold havoc in Greater Noida! Frozen sheet of ice on top of the car (Watch Video)
According to information, Tejaswita, who was feeding street dogs on the roadside, was run over by a Thar vehicle on late Saturday night at 11.39 pm. It is being told that the vehicle was coming from the wrong side. In the video of the incident that has surfaced, it is seen that a car ran away from the spot after hitting the woman. The woman is seen feeding the street dog.
CCTV footage of the accident surfaced
Shocking hit & run case reported from #Chandigarh – A young girl who was feeding stray dogs was run over by a car driving on the wrong side of the road.#BreakingNews #accident pic.twitter.com/rHs9eS8wfI

— Mirror Now (@MirrorNow) January 16, 2023
The Thar driver fled from the spot after the collision. Tejaswita's father Ojaswi Kaushal told that his daughter goes to the furniture market every night with her mother to feed stray dogs. Went on Saturday night also with her mother Manjinder Kaur.
Injured Tejaswita is currently undergoing treatment at GMSH-16. There are stitches on both sides of his head. According to media reports, the girl has regained consciousness. According to the family, she is talking and is fine. The family members want that strict action should be taken against the car driver.
video woman hit by car while feeding street dog in chandigarh