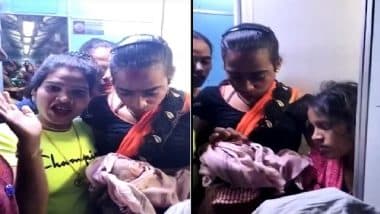 (Photo Credit: Twitter)
New Delhi, January 18:, A woman gave birth to a child in the Howrah-Patna Janshatabdi Express. A group of eunuchs got a pregnant woman delivered in a train. The video of the incident has gone viral on social media. Everyone is praising eunuchs. VIDEO: Elderly aunt was beaten to death with sticks in Varanasi, CCTV footage surfaced
The woman, a resident of Bihar's Sheikhpura district, was traveling in the Howrah-Patna Janshatabdi Express. As soon as the train left Jasidih station, she started having labor pains. Before the passengers, including women, could understand anything, the transgender (eunuchs) took the woman to the washroom and got her delivered there.
In Howrah-Patna Janshatabdi Express eunuchs got the woman delivered. watch video pic.twitter.com/qIMmo0mYBP

— Avinash jha (@chikki_jha) January 18, 2023
The woman gave birth to a healthy child and the eunuchs gave their blessings to the newborn. According to the report, he suggested the woman to see a doctor and also offered financial help for the same. It is being told that both mother and child are healthy.
Transgenders are generally stigmatized by the society. However, his step in this matter is being appreciated by the people. This incident took place on Monday in Jamui district of Bihar.
video woman gave birth to a child in a moving train eunuchs get the delivery done in jan shatabdi express