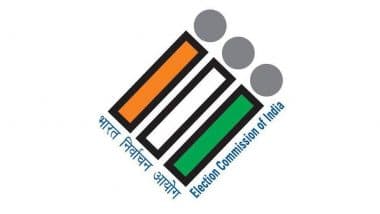 Election commission (Photo Credit: Twitter)
Shillong, January 14: Chief Election Commissioner (CEC) Rajeev Kumar on Friday said that voters living in areas along the disputed border with Assam will be allowed to cast their votes in the upcoming assembly elections in Meghalaya. After a series of meetings with political parties and officials on Thursday and Friday, Kumar told the media, "We are aware of the situation and there is nothing to worry about." We have reviewed the situation and district officials on both sides of the interstate border have held detailed meetings.
There are disputes at 12 places on the 884.9 km long interstate border between Assam and Meghalaya. The two states had earlier signed an MoU in March last year to resolve six out of the 12 disputed areas, while discussions are on to resolve the remaining six disputed areas. Kumar was accompanied by two Election Commissioners Anup Chandra Pandey and Arun Goel and senior officials of the Election Commission. Also read: Vice President Jagdeep Dhankhar's remarks against the Constitution are a dangerous sign for the future: Sitaram Yechury
He said that all steps would be taken to ensure free, fair and participatory elections in Meghalaya. The CEC said that 21,61,729 voters including 10,92,326 women and 81,443 first-time voters in Meghalaya are eligible to exercise their franchise in 3,482 polling stations covering 55 ST reserved seats and five general constituencies. The Election Commission team from Meghalaya went to Nagaland and held several meetings in Kohima with political parties and state civil and security officials.
voters in villages along the disputed border with assam can vote in meghalaya election commission