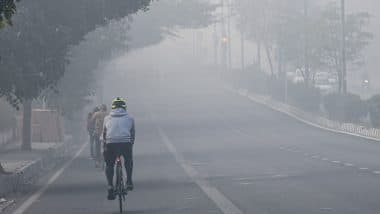 Increased cold in Delhi (Photo: PTI)
New Delhi, January 18: The outbreak of cold wave continued for the eighth consecutive day in the national capital on Wednesday. This information was given on the website of India Meteorological Department (IMD). Safdarjung Observatory in Delhi recorded a minimum temperature of 2.6 degrees Celsius. The minimum temperature was recorded here at 2.4 degree Celsius on Tuesday and 1.4 degree Celsius on Monday. Cold wave lasted for seven days in Delhi in January 2020, not a single such day was recorded last year. Also read: Weather Update: Cold like mountains in the plains, temperature -1.2 in Churu, 0.5 degree in Narnaul, Haryana
According to the IMD, severe cold wave prevailed in Delhi from January 5 to 9, which was the second longest period of severe cold wave in this month in a decade. So far this month, dense fog has been recorded for 50 hours, which is the highest since 2019.
The India Meteorological Department (IMD) had told on Monday that due to the effect of two western disturbances, the outbreak of cold wave will stop from January 19. A weather system with warm moist winds from West Asia is called a Western Disturbance. When a Western Disturbance arrives in the region, the direction of the wind changes. The cold north-west winds coming from the mountains stop blowing due to which the temperature rises.
There may be light rain and drizzle in Delhi on Thursday night. Under the influence of Western Disturbance, there is a forecast of light to moderate rain and hailstorm with winds blowing at a speed of 50 km per hour in North-West India including Delhi on 23-24 January. It has not yet rained in the winter season in Delhi. According to the Meteorological Department, this happened due to the lack of strong western disturbances in November and December. In January last year, the city recorded 82.2 mm of rainfall, the highest for the month since 1901.
cold wave continues for eighth consecutive day in delhi