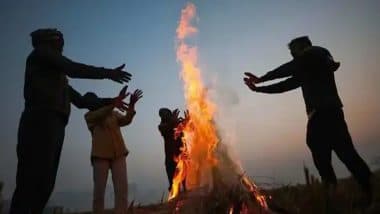 Cold Wave | Representative Image (Photo: PTI)
New Delhi, January 19: Most parts of North India got some respite from the cold wave on Thursday and there is no forecast of severe cold for the next five days. The India Meteorological Department (IMD) gave this information. Delhi Weather Update: Outbreak of cold wave stopped in Delhi, chances of drizzle on Thursday night
According to the Meteorological Department, on Thursday, there was an outbreak of cold wave in South Haryana, Eastern Rajasthan, Northern part of Madhya Pradesh and some areas of Bihar.
Minimum temperature of two to five degrees Celsius was recorded in some parts of North Madhya Pradesh and remote parts of East Uttar Pradesh and Haryana. The maximum temperature at most places over the plains of northwest India and central and eastern parts of the country was recorded between 20 and 24 degree Celsius.
The IMD said in a statement, "From January 15 to January 18, cold wave to severe cold wave conditions prevailed over northern parts of Rajasthan, Haryana, Punjab, Chandigarh, Delhi, West Uttar Pradesh and Madhya Pradesh. Due to the effect of fresh Western Disturbance from January 19, the cold wave stopped in most parts of these areas.
"There is no cold wave conditions over North India during the next five days," the statement said.
"Another active Western Disturbance…is likely to affect western Himalayan region from January 20 night to January 26 and plains of northwest India from January 23 to January 25," the statement said.
The department said that under its influence, there is a possibility of light to moderate rain and snowfall in Jammu and Kashmir, Ladakh, Himachal Pradesh and Uttarakhand on January 20 to 22. Rain and snowfall are expected to increase between January 23 and January 26. Light to moderate rain and thundershowers are expected in Punjab, Haryana, Delhi, North Rajasthan and West Uttar Pradesh from January 23 to January 26.
(This is an unedited and auto-generated story from a syndicated news feed, likely not the latest staff changes or edits)
there is no forecast of cold wave in north india for the next five days meteorological departmentr