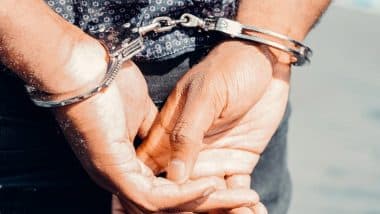 Arrested (Photo Credits File)
Kolkata: Youth Trinamool Congress (TMC) leader Kuntal Ghosh, arrested on Saturday in connection with the multi-crore teacher recruitment scam in West Bengal, was sent to 14 years imprisonment by a special court. Sent to ED custody of the day. Soon after Subah Ghosh's arrest, he was produced before a special court under the Prevention of Money Laundering Act (PMLA), where the ED's counsel pleaded for his custody for the purpose of questioning.
ED's lawyer Firoz Edulji said in the court on Saturday afternoon, "When the investigation of the teacher recruitment scam started by the central agency, it seemed that the depth of the scam is like the Indian Ocean, but now it seems that the depth of the scam is like the Pacific Ocean. "
He also claimed that ED officials have recovered a diary in this regard, which will reveal more important clues about the scam. Edulji said, "The irregularities were not just related to the appointments of teachers. There were irregularities in the recruitment of non-teaching staff as well. The entire system was affected by gross corruption."
On the other hand, Ghosh's counsel Selim Rahman claimed that though the ED's counsel is comparing the case with the depth of the Pacific Ocean, in reality it is not even like a small pond. He argued that the ED officials could not recover any cash from his client's possession and hence he should be sent to ED custody.
Rahman argued, "My client should not be sent to ED custody at any cost of severe restrictions. If necessary, he will always keep his mobile phone on and will not step out of the house."
However, after hearing both the sides, the special court sent Ghosh to judicial custody for 14 days.
ED officials arrested Ghosh on Saturday morning from one of his two residences at Chinar Park in New Town on the northern outskirts of Kolkata after conducting a marathon raid and search operation for nearly 24 hours since Friday morning. ED officials also questioned him in a phased manner during the last 24 hours.
However, after finding discrepancies in his statements, the central agency officials decided to arrest him and take him for custodial interrogation this morning. Though there is no news of cash seizure from his two residences, the officials have recovered several important documents. The nature of the seized documents is to be ascertained.
west bengal teacher scam arrested tmc leader sent to ed custody