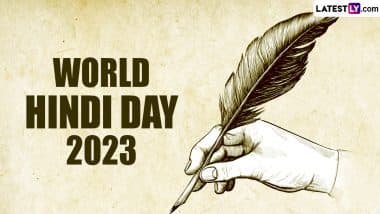 File Image
World Hindi Day 2023: It is a matter of pride for Hindi speakers that their Hindi has become the third most spoken language in the world today. At present, the number of Hindi speakers is increasing faster than those who know English. It is only through Hindi that a sensitive relationship is being formed between Indians and the people of the world. According to well-known Professor Harmohinder Singh, a separate budget was passed in the Parliament after preparing a draft for the progress and development of Hindi language in countries like America and Canada. What can be a better introduction to Hindi's place in the world, its power and vastness than this. We will talk about those famous 5 litterateurs, who played an important role in making Hindi respectable all over the world. On the occasion of World Hindi Day, let us know about such 5 world famous litterateurs. Also read: World Hindi Day 2023: When and why is World Hindi Day celebrated? Know its history, purpose and celebration!
Bhartendu Harishchandra:
Bhartendu Harishchandra, the father of modern Hindi literature, is considered the forerunner of the Indian Renaissance. He was born on 9 September 1850 in a Vaishya family of Kashi (Varanasi). Due to the death of his parents in his childhood, he had to be deprived of affection. Since his adolescence, he has made an unprecedented contribution in the promotion of Hindi. Bhartendu also did journalism and brought out many newspapers and magazines in Hindi including Bal Bodhini. Apart from this, he wrote plays, poetry, stories, novels. He has depicted slavery, poverty and exploitation very well.
Munshi Premchand:
'Upanyas Samrat' Munshi Premchand (Dhanpat Rai Srivastava) gave a definite direction to Hindi literature. He was born on 31 July 1880 in Lamhi (Varanasi). Premchandra's fiction is as relevant even today as it was in his era. In his works, there is mainly a strong depiction of the life of poor laborers, farmers and women. In which there are innumerable compositions like Sadgati, Kafan, Nirmala, Godan, Pus Ki Raat, Rangbhoomi. His mother's death in his childhood and in the presence of his step mother, his childhood was spent in a lot of pain and trouble. His pain is reflected in his creations.
Mr. Moturi Satyanarayana
The writers of South India have also played an important role in nominating Hindi as the national language. One of them was Mr. Moturi Satyanarayan, born in Dondapadu village of Krishna district (Andhra Pradesh). No one else in South India contributed as much as he contributed to the movement for the promotion of Hindi. Mr. Moturi gave his services to Hindi throughout his life while working on many Hindi posts. He was very close to Mahatma Gandhi. He introduced Hindi readers to the literature of the South by writing many articles on the literature of the South. Under his editing 'Hindi Vishwa Kosh' was published in ten parts.
Harmohinder Singh Bedi
Born in Punjab, Dr. Harmohinder Singh Bedi's father was a master in the railway station. With the inspiration of his father, his trend increased towards Hindi. Along with doing MA Hindi, he also did D Litt from Bhagalpur University and MA Punjabi from Punjabi University Patiala. Its purpose was to understand the bridge of Hindi and Punjabi. Under his guidance, 40 children have completed PhD and 60 children have completed M Phil. Even after having a good command of Punjabi language, he maintained his love for Hindi. Apart from India, he also read his research papers in Canada, Denmark, Norway, Pakistan, Bhutan and Singapore. Seeing his excellent works, the Government of India honored him with Padma Shri.
Jai Shankar Prasad
Jaishankar Prasad has been a poet, story writer, dramatist, and novelist etc. He was the first personality among Hindi litterateurs, whose hold was equal on every genre. His major works are Jharna, Ansu, Lahar, Kamayani (Poetry) Skandagupta Chandragupta, Nag Yagya (drama) of Purva Swamini Janmejaya, Chhaya, Akashdeep, Aandhi. Indrajal (story collection) and Kankal Titli Iravati (novel) he was the top poet of Chhayavad. He was born on 30 January 1889 in a prestigious Vaishya family of Varanasi.
Due to the death of his father in his childhood, the responsibility of the family fell on his shoulders. He gained extensive knowledge of Sanskrit, Pali, Hindi, Urdu and English language and literature through self-study. Kamayani is his other poetry book, which is compared to the best poems of the world. Along with human beauty, he gave a lively and original description of nature's beauty, that is, the living form of Satyam Shivam Sundaram is found in Prasad's poetry. He has used both Brajmasha and Khadi Boli.
world hindi day 2023 5 world famous hindi litterateurs of hindi who increased the respect of hindi on the world