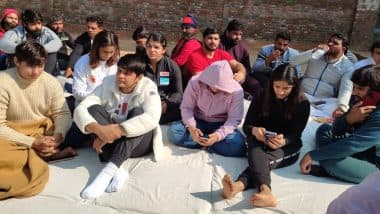 Vinesh Phogat (Photo Credits: Twitter)
New Delhi: Indian wrestling wrestlers are in headlines these days. About 30 wrestlers, including Vinesh Phogat, Bajrang Punia, Sakshi Malik, continue to protest against Indian Wrestling Association President Brij Bhushan Sharan Singh. Wrestlers have made allegations of sexual exploitation against union president Brij Bhushan Sharan Singh and several coaches. Seeing the growing controversy, Sports Minister Anurag Thakur met the wrestlers regarding this matter. The eyes of the whole country were on this meeting, but this meeting remained inconclusive. Wrestlers Protest: Why are the wrestlers who won medals for the country sitting on the dharna? Question on Wrestling Federation, long list of allegations against President Brij Bhushan Singh.
Protesting wrestlers including Vinesh Phogat, Bajrang Punia, Sakshi Malik, Anshu Malik, Ravi Dahiya, Sarita Mor met Thakur at his residence on Thursday night and demanded immediate action. The meeting between the two sides continued till late night in which both the sides have so far failed to find any concrete solution.
According to reports, the wrestler will again meet Sports Minister Anurag Thakur on Friday. Earlier on Thursday, Union Sports Minister Anurag Thakur interacted with the wrestlers for about 4 hours. No wrestler spoke to the media after leaving the Sports Minister's house late at night. There will be a meeting again today.
Wrestlers want to dissolve WFI
According to sources, the government wants the wrestlers to end their protest but the players are adamant that the WFI should be dissolved first. A source close to the wrestlers told PTI, "The government can sort out other issues later, but it should first dissolve the WFI."
Brij Bhushan Sharan Singh will hold a press conference
Amidst the allegations, Wrestling Federation President Brij Bhushan Sharan Singh has called a press conference on Friday (January 20) at 12 noon. Brij Bhushan Sharan Singh will talk about the allegations against him in this meeting. It has been told from his office that all the friends of the media are invited to 'expose the political conspiracy of conspiring against wrestling and wrestling and playing with the honor of women wrestlers'.
Serious allegations against Brij Bhushan Sharan Singh
Wrestlers protest against Indian Wrestling Federation president and BJP MP Brij Bhushan Sharan Singh. The President of the Wrestling Federation has faced serious allegations of sexual harassment and harassment of the players. Brij Bhushan Sharan Singh has denied the allegations. He said that the allegation of sexual exploitation is a very big allegation. If this proves to be true, then they are ready to be hanged. Brij Bhushan Sharan also said that none of the players who are protesting can win the Olympics, that's why they are angry.
wrestlers protest wrestlers meeting with sports minister anurag thakur to resume again today