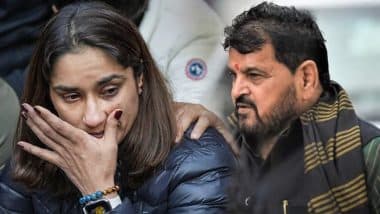 (Photo Credit: Twitter)
New Delhi, January 19: Wrestling Federation of India (WFI) president and Bharatiya Janata Party (BJP) MP Brij Bhushan Sharan Singh, facing sexual harassment allegations, was once charged under the Terrorist and Subversive Activities Prevention Act (TADA), and Babri Masjid His name also came up in the demolition case. Singh, a resident of Vishnuharpur in Gonda district of Uttar Pradesh, was himself a wrestler. He was also involved in student politics from Saket College, Ayodhya. read this also- Wrestler Protest: Indian Wrestling Federation President Brij Bhushan Singh may resign, accused of sexual harassment
In the 1991 Lok Sabha elections, he came into limelight by defeating Congress leader Anand Singh, under whose guidance he had earlier worked. Recently, he was also in discussion for slapping a wrestler in Ranchi. In the 90s, he was charged under TADA for harboring Dawood Ibrahim's henchmen Subhash Thakur, Jayendra Thakur and Paresh Desai, but was later acquitted.
According to the affidavit in the 2019 election, 4 cases are pending against him, including the charge of attempt to murder. Since 1991, he had lost an election from Gonda once in 1998, when Anand Singh's son Kirtivardhan Singh, now a BJP MP himself, defeated him as a Samajwadi Party candidate. But he was re-elected to the 13th Lok Sabha from the same constituency in 1999 and in 2004, to the 14th Lok Sabha on a BJP ticket from the Balrampur constituency in Uttar Pradesh.
He joined the Samajwadi Party on 20 July 2008. In 2009, he was elected to the 15th Lok Sabha from the Kaiserganj constituency in the state of Uttar Pradesh. He later joined the Bharatiya Janata Party months before the 16th general election and is currently a member of the Lok Sabha. His wife Ketki Singh was also an MP when he was in jail under TADA in 1996 and his son Prateek Bhushan Singh is the BJP MLA from Gonda.
Protest against Wrestling Federation of India (WFI) president Brij Bhushan Sharan Singh and coaches at Jantar Mantar in the national capital following serious allegations of sexual harassment of women wrestlers by Olympian wrestlers Bajrang Punia, Sakshi Malik, Vinesh Phogat and other top Indian wrestlers Vinesh are doing.
Asian Games and Commonwealth Games gold medalists broke down while talking to reporters on Wednesday as over 30 wrestlers, including Olympic medalists Sakshi Malik and Bajrang Punia, staged a protest at Jantar Mantar. Vinesh said that she was subjected to mental harassment by Brijbhushan Sharan Singh, she had even thought of suicide.
On Thursday morning, Geeta Phogat and Babita Phogat tweeted their support to the protesting wrestlers demanding the removal of the WFI president.
who is wfi chief brij bhushan sharan singh apart from sexual exploitation he has also been accused under then