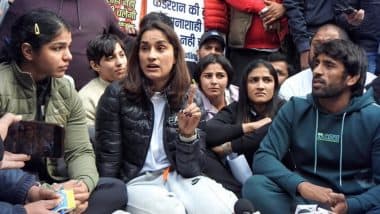 New Delhi: Many wrestlers who have given medals to the country are protesting in the country's capital Delhi. These wrestlers, who have defeated big wrestlers at the national and international level, are unitedly fighting for their rights. You will see tears in the eyes of these wrestlers, sadness in their voices and displeasure in their words. The wrestlers performing include big names like medalist Vinesh Phogat, Bajrang Punia, Sakshi Malik, Sarita Mor and Sumit Malik. These wrestlers have opened a front against Wrestling Federation President Brij Bhushan Sharan Singh. Wrestling coach, who came in support of Vinesh Phogat, said on the allegations of sexual harassment – ​​no one says such a thing without any reason.
The list of allegations made by the wrestlers is very long and these allegations are so serious that there is a big stir in the politics in the capital Delhi. These wrestlers, who are protesting at Delhi's Jantar Mantar, have made serious allegations like sexual harassment, indecency, death threats on many big people including BJP leader and Wrestling Federation President Brij Bhushan Sharan Singh.
Wrestlers are telling their words to the countrymen with tears in their throats. Today is the second day of their protest, it continues from Wednesday. Vinesh Phogat, who won three medals in the Commonwealth Games, alleged that the wrestling federation and its president Brij Bhushan Sharan Singh and the coach-referee associated with his association had harassed them. However, Vinesh has not spoken of sexual harassment with himself.
On the other hand, Brij Bhushan Sharan has told all the allegations to be false and said that he is ready for every investigation. Wrestlers accused Wrestling Federation President Brij Bhushan Sharan Singh and some coaches of sexual harassment of women wrestlers. Also raised questions on the functioning of the federation.
Vinesh Phogat's serious allegations
Vinesh said that he was subjected to mental harassment by Brij Bhushan Sharan Singh, after which he even thought of suicide. The WFI president called me 'khota sikka' (worthless). I wanted to commit suicide. I have openly said today, I don't know whether I will be alive tomorrow or not. We have requested several times to move the camp away from Lucknow. Why does this happen only there? Because it is easy for him to make women wrestlers a victim.
Vinesh also said that she faced death threats for complaining against Brijbhushan Sharan Singh. He said, after complaining about the harassment to the Prime Minister, I am being threatened with death. The wrestlers are demanding a change in the WFI administration and have appealed to Prime Minister Narendra Modi and the Sports Authority of India to take action against the WFI chief.
Brij Bhushan Sharan Singh called the allegations false
Brij Bhushan Sharan Singh, 66, has been in charge of the WFI for nearly a decade. Who was elected unopposed as WFI president for the third time in 2019 for a three-year term, dismissed the allegations of sexual harassment leveled against him by top Indian wrestlers, saying, "If the allegations against me are proved, I will myself." Will hang him.
When I came to know that the wrestlers were protesting, I did not know what the allegations were, Sharan told reporters. This is a conspiracy against me, and a big industrialist has a hand in it. When Vinesh Phogat lost, I was the one who motivated her. I will talk to the players. I am ready to face any kind of investigation. Sexual harassment never happened. If even a single athlete comes forward and proves this, I will hang myself.
why are medal winning wrestlers protesting in national capital all you need to know about